THE TEJANO GENEALOGY CONFERENCE
JULY 13, 2013 AUSTIN, TEXAS
Jessie (Kila) Sanchez and I (George A. Sanchez) attended the "Finding Your Roots: Why and How" conference in Austin, Texas.  It was only a one day conference sponsored by the Tejano Genealogy Society of Austin (TGSA).  However, it was an outstanding conference featuring six major speakers.  All of them spoke about the importance of learning and promoting what Tejanos, and by that they mean Hispanics or Latinos of Spanish and/or Mexican descend, brought to the history of what is now the state of Texas.  A topic that has long been ignored in the public education system of Texas, and, for that matter, in all the United States.
First, Jose Adrian Barragan, the Spanish Translator for the Texas General Land Office (GLO), which is the repository for original Spanish and Mexican land titles in Texas.  Their website is www.glo.texas.gov.  Barragan spoke about these records, known as the Spanish Collection, as the most important collection of original documents anywhere for the history of land distribution in Texas prior to 1836.
Next, Dr. Andres Tijerina spoke about "Finding Your Tejano Roots: The Historical Context." 
He has written several award-winning books among them Tejanos and Texas under the Mexican Flag and Tejano Empire: Life on the South Texas Ranchos.  He is an outstanding speaker and some members from mine and Kila's home organization, The San Elizario Genealogy and Historical Society (SEGHS), came to Austin a few years ago where he was one of the speakers.
The next speaker, Jesse O. Villarreal, Sr., I was very anxious to hear.  A native of San Antonio, Texas, he is a 9th generation Tejano and descends from the first soldiers who arrived and settled in San Antonio de Bexar in 1718.  His ancestors include members of the Canary Islanders who established the Villa de San Fernando de Bexar in 1731 and also some of the first ranchers of Texas who later provided cattle for the troops of General Bernardo de Galvez during the American Revolution.  Villareal wrote a book about this: Tejano Patriots of the American Revolution 1776.  (If interested contact him at jesseo2800@yahoo.com)  A friend of mine , Henrietta Christmas, from Albuquerque, New Mexico, also discovered that she descends from a few Spanish soldiers in the Presidio of Santa Fe around 1776.  Whenever you can trace your ancestry, like Villareal and Christmas have done, to those soldiers you can apply to become A Son or Daughter of the American Revolution.  When was this ever taught in school?!
Jose Antonio Lopez is a public speaker, historian, and author of three books: The Last Knight(Don Bernardo Gutierrez de Lara Uribe, A Texas Hero), Nights of Wailing, Days of Pain, and The First Texas Independence, 1813.  At the end of his talk Lopez displayed a power point picture where he started the history of the colonization of Texas by Alonzo de Leon.  When he finished his talk and asked for question or comments, I could not resist telling him and the others in the audience that my Eighth Grandfather Santiago Gurule, the French sailor Jacques Grollett with the ill fated La Salle expedition to Texas was captured by Alonso de Leon in 1689!  (You can read the whole story on our website: sanelizariogenealogy.com click on History.)  (Mr. Lopez would be a great speaker for our First Thanksgiving Conference in April 2014 in San Elizario!)
Dr.  Emilio Zamora, Professor at the University of Texas, Austin, is a historian specializing in Mexican American history, U.S. working class history, and the history of the Mexican archival enterprise in Texas and Northern Mexico.  From the University of Houston he garnered a service award for his book: The World of the Mexican Worker in Texas, best article prize for: The Failed Promise of Wartime Opportunity for Mexicans in the Texas Oil Industry, the Southwestern Historical Quarterly 95, and is the lead editor in his most recent publication, Mexican Americans in Texas History.
Dorothy Medley, a director of the Family History Center for the Church of Jesus Christ of Ladder Day Saints, in Marble Falls, Texas, gave us a well-versed talk on using Family Search Family Tree.  A young lady by the name of Denise Garza Steusloss told us that she would be appearing in a PBS Genealogy Road Show in September 23, 2013.  It will be like the program Who Do You Think You Are? but with more Tejano history.  Another attendee at the conference was a lady, whose name I don't have, who is a member of the Los Bexarenos Genealogical and Historical Society (LBGHS) from San Antonio, Texas.  (Kila and I recently joined this organization also.)  This lady can trace her ancestry to a member who was in the Alamo.  Because of this she was made a Daughter of the Texas Republic.
Finally, Kila won a top prize right before the very nice box lunch, a framed 1836 Republic of Texas map!  By the way, it was only a $10 charge to attend the conference!
<![if !vml]>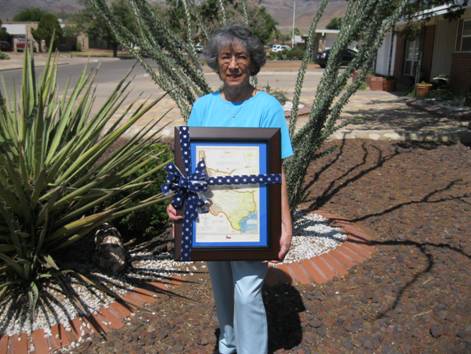 <![endif]>